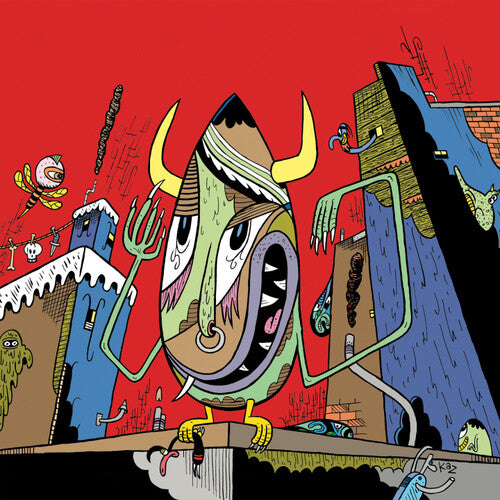 Wolfmanhattan Project
Summer Forever And Ever
Pay in 4 interest-free installments for orders over $50 with Shop Pay.
Only 4 left in stock.
Vinyl LP pressing. Summer Forever And Ever succeeds Blue Gene Stew, 2019's debut by the Wolfmanhattan Project, a collective unit co-starring three musicians familiar to In The Red listeners: singer-guitarist Mick Collins, front man of the seminal Detroit-bred garage units the Dirtbombs and the Gories, singer-guitarist Kid Congo Powers who played in such legendary bands as the Gun Club, the Cramps, and Nick Cave and the Bad Seeds, and drummer-vocalist Bob Bert, whose skin work has distinguished albums by Sonic Youth, Pussy Galore, Lydia Lunch's Retrovirus, and Jon Spencer and the HITmakers. The group was founded as a studio project by three musicians who are kept busy by their primary bands. Blue Gene Stew was written and recorded quickly. Powers says, "I think that the new record was much more a group effort. I think there's more of a group kind of sound, as eclectic as it is. I feel like we all played together, as opposed to playing on each other's songs." Bert notes that the band's music is grounded in spontaneity: "Me and Mick went in and had a couple of rehearsals, and I would come up with a beat, he would come up with a riff. I still have a cassette Walkman, believe it or not, and we'd put it down on that. It wasn't even a full song. We'd just put down a bunch of ideas. When it came to recording we'd lay down the basic tracks and work out different things, and a lot of it was made up on the spot. It really is a great collaboration." Recorded and engineered by Mark C. of Live Skull at his studio, Summer Forever And Ever finds Powers playing piano and the Kaoss touch-pad effects unit and Collins playing synthesizer, in addition to their usual instruments. The album reflects the same eclectic mix of musical styles heard on the debut. References and sometimes even direct quotes from sources as diverse as the Andrea True Connection, Captain Beefheart, the Count Five, and Eurythmics leap out of the speakers.