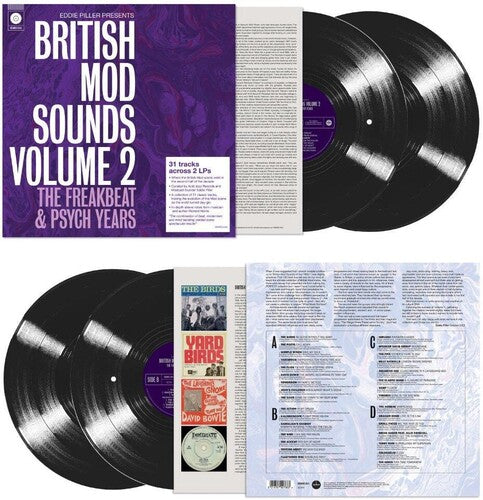 Various Artists
Eddie Piller Presents British Mod Sounds Of The 1960s Volume 2: The Freakbeat & Psych Years [2LP]
Pay in 4 interest-free installments for orders over $50 with Shop Pay.
Only 12 left in stock.
Double vinyl LP pressing. Curated by Acid Jazz Records and Modcast founder Eddie Piller, British Mod Sounds of The 1960s Volume 2: The Freakbeat & Psych Years is the follow up to the hugely successful British Mod Sounds of The 1960s. Featuring 31 original tracks across two LPs. This set is a deep dive into the post-Mod scene in '60s Britain. Featuring a selection of classic and rare tracks, tracing the scene from early '65 to the dawn of a new decade. Volume 2: The Freakbeat & Psych Years tracks the development of the original Mod mainstays (the Small Faces, The Who, The Action, The Kinks), with a generous selection of future superstars (David Bowie, Marc Bolan, Fleetwood Mac, Jimmy Page of Led Zeppelin and Steve Howe of Yes are all represented here), alongside a few artists so obscure, so rare, that they never got to release a record in the '60s, but Eddie has tracked down the tapes nonetheless.