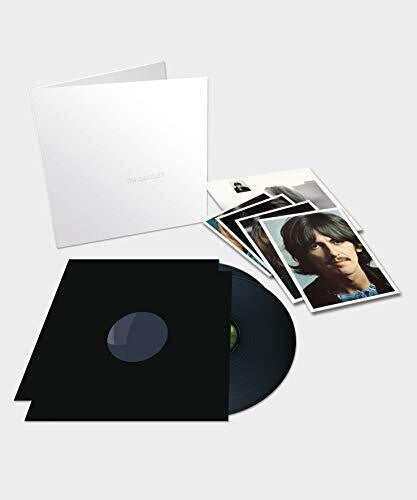 The Beatles
The Beatles (The White Album)
Pay in 4 interest-free installments for orders over $50 with Shop Pay.
In November 1968, millions of double LPs were shipped to record stores worldwide ahead of that tumultuous year's most anticipated music event: the November 22nd release of The BEATLES (soon to be better known as 'The White Album'). With their ninth studio album, The Beatles took the world on a whole new trip, side one blasting off with the exhilarating rush of a screaming jet escorting Paul McCartney's punchy, exuberant vocals on "Back In The U.S.S.R." "Dear Prudence" came next, John Lennon warmly beckoning his friend and all of us to "look around." George Harrison imparted timeless wisdom in "While My Guitar Gently Weeps," singing, "With every mistake we must surely be learning." Ringo Starr's "Don't Pass Me By" marked his first solo songwriting credit on a Beatles album. For 50 years, 'The White Album' has invited its listeners to venture forth and explore the breadth and ambition of its music, delighting and inspiring each new generation in turn.
On November 9, The Beatles will release a suite of lavishly presented 'White Album' packages (Apple Corps Ltd./Capitol/UMe). The album's 30 tracks are newly mixed by producer Giles Martin and mix engineer Sam Okell in stereo and 5.1 surround audio, joined by 27 early acoustic demos and 50 session takes, most of which are previously unreleased in any form.
The Beatles' newly adopted method of recording all through the night was time consuming and exhausting for their producer, George Martin. Martin had other duties, including his management of AIR (Associated Independent Recording), and he had also composed the orchestral score for The Beatles' animated feature film, Yellow Submarine, released in July 1968. After the first three months of 'White Album' sessions, Martin took a three-week holiday from the studio, entrusting the control room to his young assistant Chris Thomas and balance engineer Ken Scott. Scott had taken the place of engineer Geoff Emerick, who left the sessions in mid-July. On August 22, Ringo Starr also left the sessions, returning 11 days later to find his drum kit adorned with flowers from his bandmates. While the sessions' four and a half months of long hours and many takes did spark occasional friction in the studio, the session recordings reveal the closeness, camaraderie, and collaborative strengths within the band, as well as with George Martin.
"We had left Sgt. Pepper's band to play in his sunny Elysian Fields and were now striding out in new directions without a map," says Paul McCartney in his written introduction for the new 'White Album' releases.
This is the first time The BEATLES ('White Album') has been remixed and presented with additional demos and session recordings. The album's sweeping new edition follows 2017's universally acclaimed Sgt. Pepper's Lonely Hearts Club Band Anniversary Edition releases. To create the new stereo and 5.1 surround audio mixes for 'The White Album,' Martin and Okell worked with an expert team of engineers and audio restoration specialists at Abbey Road Studios in London. All the new 'White Album' releases include Martin's new stereo album mix, sourced directly from the original four-track and eight-track session tapes. Martin's new mix is guided by the album's original stereo mix produced by his father, George Martin.
"In remixing 'The White Album,' we've tried to bring you as close as possible to The Beatles in the studio," explains Giles Martin in his written introduction for the new edition. "We've peeled back the layers of the 'Glass Onion' with the hope of immersing old and new listeners into one of the most diverse and inspiring albums ever made."
Standard 2LP Vinyl:
The BEATLES ('White Album') 2018 stereo mix
180-gram 2LP vinyl in gatefold sleeve with faithfully replicated original artwork
The Beatles (The White Album) 2 LPs