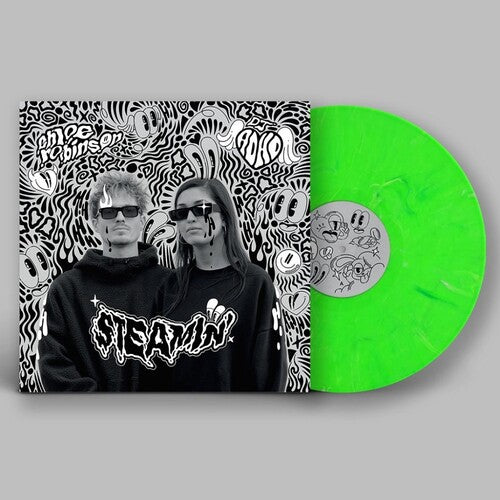 Steamin' (w/ Four Tet Remix)
Pay in 4 interest-free installments for orders over $50 with Shop Pay.
Only 3 left in stock.
Chloe Robinson & DJ ADHD are still not short on fuel. In fact, they seem to only be boosted further by their own supply. With such a weighty momentum driving forward their newly established identities, only one big question sits adjacent in the saddle: what's next? It seems that Chloe and Alex already have the answer for today's daily summon, and for the next Pretty Weird release, it's a 4-track techno record reiterating the trusted adage of less being more. With an emphasis on space and silence placed intuitively, the first single from the 'Steamin' EP finally gets it's much anticipated drop - including a killer remix from close friend Four Tet stamped on in classic, inimitable style. 'Steamin' is all serrated kicks, 909 drums and tenacious vocals that yell without inhibition, invoking the looseness of a party spiraling unphased into it's collective apex.. 'Redbull' scales up on the pyrotechnics and rowdy behavior, taking the sensation of several shots of caffeine and packaging it into a mean, raucous pick-me-up. For 'Pax', Chloe and Alex continue on the stripped back disorder with white-hot conviction through rhythm and textures that find their power through no-frills, unpretentious simplicity. Kieran Hebden steps up for the remix, nodding back in appreciation to the past through the nestling of a sharply redefined 'Pulse X' sample alongside his addictive, punchy production all too suited to those can't-go-home-just-yet stints. Early support from artists including Four Tet, Peggy Gou, Jamie XX, Floating Points, Ben UFO, Caribou, Skrillex, Mary Anne Hobbs, Bradley Zero, Bonobo, Saoirse, Zenker Brothers, TSHA, HAAi, I. Jordan, Logic1000 and Pearson Sound.