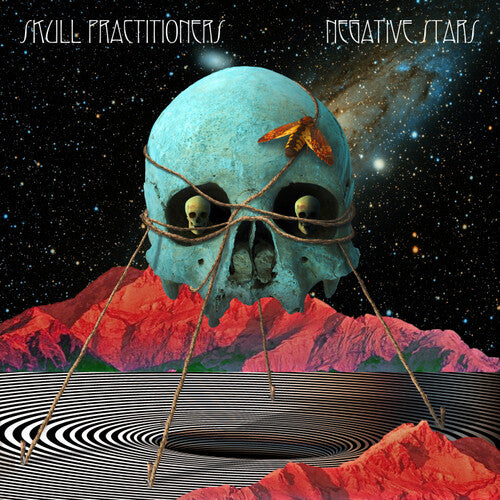 Skull Practitioners
Negative Stars
Pay in 4 interest-free installments for orders over $50 with Shop Pay.
Only 4 left in stock.
Hard-hitting new collection succeeds the trio's rampaging 2019 In The Red Debut EP Death Buy! Proving once again that "power trio" isn't just a descriptive handle from the distant past but a louder-than-God 21st-Century reality, the devastating New York band Skull Practitioners bow Negative Stars, their first full-length album for In The Red Records. The eight-track collection is the second release for Los Angeles-based trio-guitarist Jason Victor, bassist Kenneth Levine, and drummer Alex Baker-who collectively produced the record, with Ted Young engineering (and Baker handling engineering on vocal sessions). Brooklyn Vegan said, "If you dig early '80s L.A. dusty punk like Gun Club, X and Flesh Eaters, or the many works of Jon Spencer, you will want to check out these four ripping, ripped-up tracks." Rock And Roll Globe described the music as "Gun Club fugues played by anxious Amphetamine Reptile Records ghosts deciding they'd prefer to continue to walk the earth." Negative Stars is the culmination of years of work in New York's clubs and studios. "I don't like to say the date we started working together," says Levine, "but the second Bush was still president." At the time, Victor had already established himself as the dazzling co-lead guitarist for Steve Wynn and the Miracle Three; when Wynn revived his '80s L.A. Paisley Underground consortium the Dream Syndicate in 2017, Victor took the guitar chair previously occupied by Karl Precoda and Paul Cutler. Baker had only recently arrived from Cincinnati. With their album finally complete and the pandemic lifting, Skull Practitioners have begun to take to the stage more regularly: in 2022 they have played shows with Lydia Lunch, Live Skull, the Art Gray Noizz Quintet, and In the Red label-mates the Wolfmanhattan Project (Kid Congo Powers, Mick Collins, and Bob Bert). They plan to get on the road in the near future.