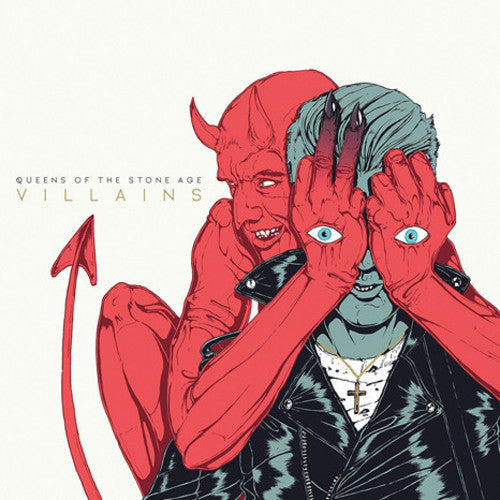 Queens of the Stone Age
Villains
Pay in 4 interest-free installments for orders over $50 with Shop Pay.
Only 16 left in stock.
Vinyl LP pressing. 2017 release from the acclaimed rockers. Hundreds of epic shows, memory lapses, unexplained injuries, one year-long detour with Iggy Pop and multiple Grammy nominations later, Queens of the Stone Age reemerge from the desert newly scarred and somehow strangely prettier with lucky seventh album, Villains, out August 25 on Matador Records. Produced by Mark Ronson and co-produced by Mark Rankin and mixed by Alan Moulder, Villains is the first full album offering from Queens of the Stone Age since 2013's... Like Clockwork gave the band it's first #1 album in the U.S. Like the stunning artwork of returning illustrator Boneface, the sonic signatures of the lineup that took... Like Clockwork around the world and back are as unmistakable as ever, though coexisting with sufficient new twists to induce recurring double takes. As Homme himself puts it, "The most important aspect of making this record was redefining our sound, asking and answering the question 'what do we sound like now?' If you can't make a great first record, you should just stop - but if you can make a great record but you keep making records and your sound doesn't evolve, you become a parody of that original sound." Longtime Queens cohort co-producer Mark Rankin added, "After the baptism of fire that was... Like Clockwork, I was excited to get into the studio again with the challenge of pushing the sound for this record, especially with the the addition of Ronson into the creative mix... What we've made is forward looking yet unmistakably Queens." "The title Villains isn't a political statement. It has nothing to do with Trump or any of that shit. It's simply 1) a word that looks fantastic and 2) a comment on the three versions of every scenario: yours, mine and what actually happened... Everyone needs someone or something to rail against - their villain - same as it ever was. You can't control that. The only thing you can really control is when you let go." -Joshua Homme.