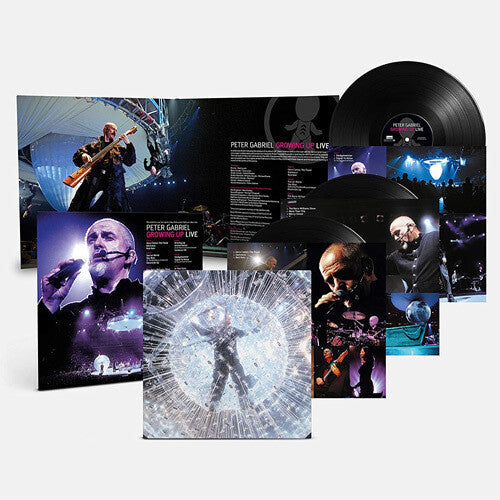 Peter Gabriel
Growing Up Live
Pay in 4 interest-free installments for orders over $50 with Shop Pay.
Growing Up Live – 3LP Half Speed Remaster
Growing Up Live, released on 3LP on 27 November 2020. Following the release of his album 'UP', Peter Gabriel went on the road for the first time in a decade. Once again collaborating with production designer Robert Lepage to create a spectacular and theatrical live experience, with the band performing in the round.
The concert was recorded over two nights at the Filaforum in Milan in May 2003 and features notable contributions from the likes of The Blind Boys of Alabama, Hukwe and Charles Zawose, Sevara Nazarkhan and the voice of Nusrat Fateh Ali Khan.
The touring band captured by the recordings consists of Peter, alongside Ged Lynch (drums), Tony Levin (bass, vocals), David Rhodes (guitar, vocals), Richard Evans (guitar, mandolin, whistle), Rachel Z (keyboards, vocals) and Melanie Gabriel (vocals).
Previously a concert film, this is the first time on vinyl for 'Growing Up Live', presented as a 3LP set in gatefold sleeve, designed by Marc Bessant.
The album has been Half-Speed Remastered and cut to lacquers at 33RPM by Matt Colton at Alchemy Mastering, mastered by Tony Cousins at Metropolis and overseen by Peter Gabriel's sound engineer Richard Chappell. The LP also comes with a hi-res audio download code (24bit or 16bit).
Part of a series of live LP releases, which includes Plays Live (released 28 August), Live In Athens 1987 (released 25 September) and Secret World Live (released 23 October). A twenty-year period of live performance is captured by the four releases, and over forty different songs.
Peter Gabriel - Growing Up Live - vinyl