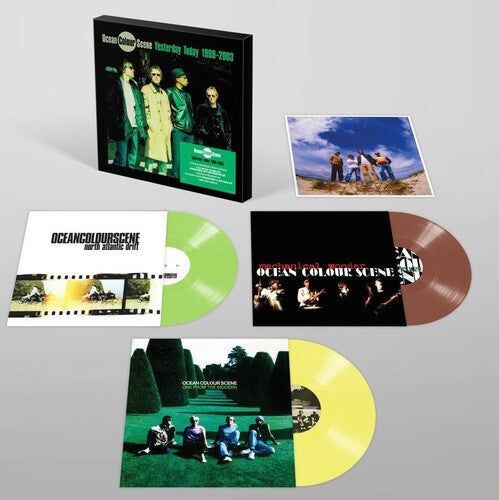 Ocean Colour Scene
Yesterday Today 1999-2003 - Limited Autographed 140-Gram Colored Vinyl
Pay in 4 interest-free installments for orders over $50 with Shop Pay.
Only 6 left in stock.
Limited edition boxset includes autographed print. Triple colored vinyl LP pressing. Continuing our celebration of one of Britain's finest bands Demon Records are proud to present Yesterday Today 1999 to 2003. This is the next in the ongoing series where we focus on a period from the band's illustrious career and pull together their studio albums in one concise vinyl box. Within this boxset set you'll find One From The Modern; the bands fourth album that at the time represented something of a slight departure from the previous two. A more reflective, soulful and pastoral sound as well as a more political message, albeit with a late-60s psychedelic slant, reminiscent of The Byrds, Small Faces or later-period Beatles. The band firth album Mechanical Wonder peaked in the UK chart at #7 and lasted four weeks in the top 75. Tracks such as Up On The Downside, If I Gave You My Hear & Mechanical Wonder represent a continuation of the popular Ocean Colour Scene sound. Plus this is the first time this album has been reissued on vinyl since it was first released in 2001. Finishing off the set is North Atlantic Drift, which is also appearing on vinyl for the first time since it's initial release. An exceptionally good album that ranks alongside the band's best, featuring tracks I Just Need Myself, Golden Gate Bridge and Second Hand Car.