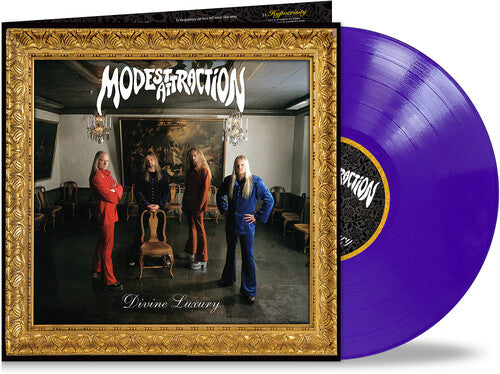 Modest Attraction
Divine Luxury
Pay in 4 interest-free installments for orders over $50 with Shop Pay.
Only 5 left in stock.
Featuring Christian Liljegren (pre-Narnia) and Mick Nordstrom (ex-Leviticus) Modest Attraction rose from the ashes of the elite Swedish melodic band, Borderline whose demos ruled the Christian metal underground in the late 80's. After a couple of classic demos, the band recorded and released their second album themselves and was available exclusively as an import in the states. Divine Luxury (1996) built on the enormous success of the debut and blew away both critics and long-time fans. Memorable, exquisite, super-heavy, and firmly planted in the 70's with a modern day production, Divine Luxury show cased the band at the top-of-world of heavy metal. To this very day, Retroactive Records owner, Matthew Hunt claims this album as one of his all-time favorites! It's THAT amazing! Packaged in a beautul Gatefold Jacket. Remastered by none other than Narnia axeman, C.J. Grimmark and the layout handled by none other than NoLifeTilMetal's Scott Waters - the album has never looked or sounded so elite and professional. Even though Nirvana and Soundgarden were ruling the radio charts in '91 and '92, Modest Attraction was leading the retro movement early on, and combined the extravagant showmanship of Queen with the deep 70's vibes of classic Deep Purple, The Sweet, Rainbow, Uriah Heep, Led Zeppelin. Modest Attraction embraced the retro-vibe in every way - featuring members with full-blown long-hair, platform shoes, and colorful stage clothes including flared trousers - and it connected with fans in a serious way! Classic heavy metal gets no better than this! Two important words - MUST-BUY!