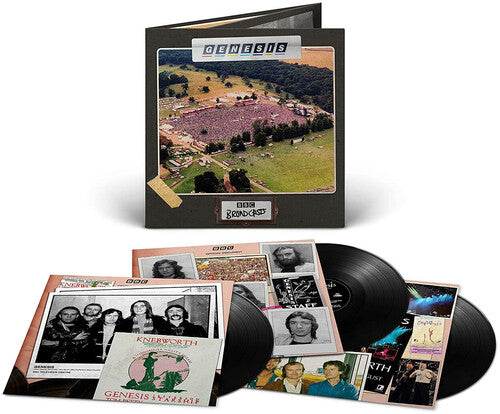 Genesis
BBC Broadcasts
Pay in 4 interest-free installments for orders over $50 with Shop Pay.
Only 19 left in stock.
Genesis 'BBC Broadcasts' is an extensive collection of broadcast material from one of the biggest selling recording artists of all time and one of Britain's most internationally renowned bands. Curated by founder member Tony Banks and the group's long-time engineer and producer Nick Davis it is available as 24-track triple LP.
These collections represent the cream of the group's work recorded by the BBC between 1970 and 1998, and it includes contributions from all three of the group's vocalists, Peter Gabriel, Phil Collins and Ray Wilson. With notes by author Michael Hann, and packaged with a 40-page booklet, 'BBC Broadcasts' contains favourites such as 'Home By The Sea', 'Mama', 'Duchess', 'Carpet Crawlers', 'No Son Of Mine' 'Turn It On Again' and many more.
With only a handful of these tracks previously officially available, Genesis 'BBC Broadcasts' acts as both a collector's cornucopia and an alternative "greatest hits". Stretching from the very beginnings of the band's career via appearances on 'Night Ride' and John Peel, the set encompasses both of the group's Knebworth performances (78 and 92) as well as their much-loved 1980 show at London's Lyceum, and triumphant sell-out run of shows at Wembley in 1987.
Rounded out by material from the NEC in 1998 and Paris Theatre and Nightride sessions from the early 70s, as well as the much sought-after encore version of 'Watcher Of The Skies' at Wembley Empire Pool in 1975, Genesis 'BBC Broadcasts' is a veritable treasure trove.
GENESIS / BBC BROADCASTS 3xLP