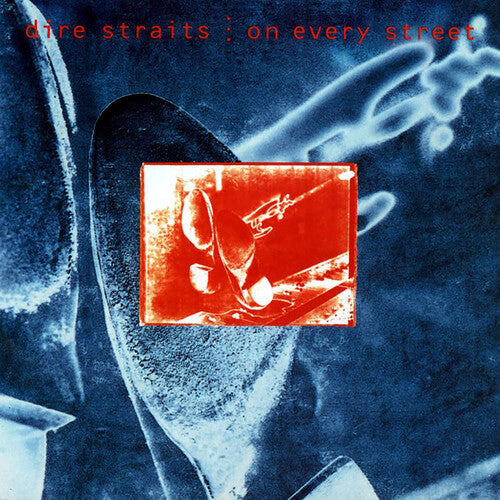 Dire Straits
On Every Street
Pay in 4 interest-free installments for orders over $50 with Shop Pay.
On Every Street is the sixth and final studio album by British rock band Dire Straits, released on September 10, 1991 by Vertigo Records internationally, and by Warner Bros. Records in the United States. The follow-up to the band's massively successful album Brothers in Arms, On Every Street reached the top of the UK albums chart and was also certified platinum by the RIAA. This album features Vince Gill as a guest artist and produced several singles: "Calling Elvis," "Heavy Fuel," "On Every Street," and "The Bug."
Emerging on the scene in 1977, Dire Straits became one of the most commercially successful bands of its time. Led with virtuoso skill by vocalist/guitarist, Mark Knopfler, Dire Straits was behind such hits as "Sultans of Swing," "Brothers In Arms," "Romeo and Juliet," and "So Far Away."
Propelled by Mark Knopfler's literate songs, gruff vocals, and spidery guitar work, Dire Straits had overcome initial skepticism for their resistance to '70s new wave accents in favor of their rootsy traditionalism. The band's sound drew from a variety of musical influences, including jazz, folk, and blues. As their career progressed, Dire Straits became more refined and the band became one of the leaders of a group of mature, veteran musicians that designed their music to appeal to aging baby boomers.
As a whole, On Every Street reconfirms that Knopfler is an impeccable guitarist, a musician of exquisite taste... -Rolling Stone
On Every Street is an amazing album...Instead of Sting singing I Want My MTV," fans got Hillbillies pedal steel player Paul Franklin adding to the high-lonesome sound of the quite infectious title track and the epic "Planet of New Orleans," along with meditations on the mistreatment of striking miners in the cinematic "Iron Fist," and some of Knopfler's most haunting guitar work throughout. The result can be seen as a dignified--and, at times, even inspiring--farewell album." -Bill Forman, Amazon
FEATURES:
'Back To Black' Series
Full length versions of all tracks on Audiophile 180g Double Vinyl for the First Time!
180g Audiophile Quality Vinyl
Double LP
Mastered from the original masters by Bernie Grundman and Bob Ludwig
Lacquers cut by Chris Bellman and Bernie Grundman
Includes Limited Time mp3 Download Card for the entire album
Import
DIRE STRAITS / ON EVERY STREET - RHINO