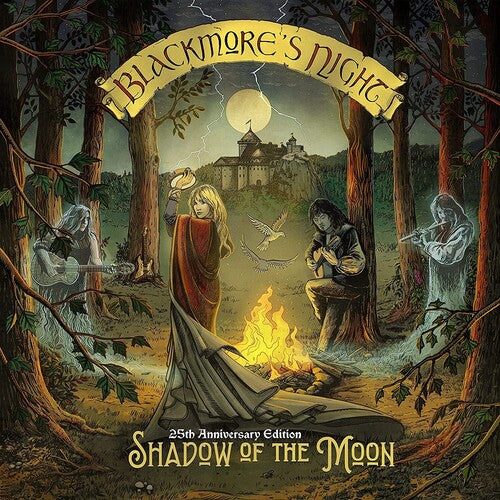 Blackmore's Night
Shadow Of The Moon (25th Anniversary Edition)
Pay in 4 interest-free installments for orders over $50 with Shop Pay.
CELEBRATING A QUARTER CENTURY OF BLACKMORE'S NIGHT. 25th ANNIVERSARY RE-MIXED EDITION OF THE MILESTONE DEBUT ALBUM "SHADOW OF THE MOON"
The band's debut album "Shadow Of The Moon" (1997) was not only Blackmore's deliberate radical cut from his previous life as celebrated rockstar in Deep Purple and Rainbow; it was a ground-breaking statement of his artistic ideals: mainly acoustic music, influenced by the songs of the Middle Ages and the Renaissance with a touch of genius that made them sound contemporary.
"Shadow Of The Moon" was a milestone album. It encompasses everything that Blackmore's Night stand for to this day: beautiful melodies and warm atmospheres that are able to reach the soul as well as joyful songs to dance to and to celebrate.
Those who really understood Ritchie Blackmore ´s music in his rock years, could immediately find the essence of his greatness in Blackmore ´s Night, supported by lyrics that fit his music more than ever before.
March 2023, the 25th Anniversary Edition of "Shadow Of The Moon" will be released worldwide. The album was converted in HD audio from the original recording, and it has been fully remixed, allowing the original performance to shine in its original glory. The original iconic artwork has been refreshed and reworked to celebrate the anniversary.
BLACKMORE'S NIGHT / SHADOW OF THE MOON (25TH ANNIVERSARY EDITION)