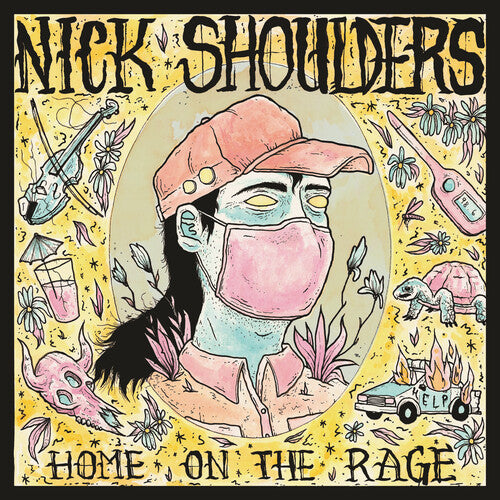 Nick Shoulders
Home on the Rage (Blue Swirl)
Pay in 4 interest-free installments for orders over $50 with Shop Pay.
Only 19 left in stock.
With 'Home on the Rage,' Nick Shoulders swaps the raucous, sweat-stained Honkabilly of New Orleans for the rocky solitude of the Ozark up-country. The energy is subdued, but what the record lacks in rowdiness, it makes up for in sheer determination. Recorded during the late summer months of 2020, the album is the first solo/acoustic attempt by Nick, with limited accompaniment from 'Okay Crawdad' collaborator Grant D'Aubin appearing alongside a showcase of Nick's multi-instrumental and genre-bending original songs. Alongside the expected pained warbles and indignant yodels are songs about profound isolation, permanent disruption, and the apocalyptic anxiety that marks the album as a product of the red-state COVID-19 zeitgeist. With 'Home on the Rage,' Nick continues his dissection of American traditional music both in form and content. By drawing upon his background in old-time banjo, deep south gospel singing, blues harmonica, and proto-rock & roll one-man-bands, Nick has furnished this sound collage of southern dissent with a variety of influences. Using ancestral singing techniques and archaic instrumentation, Nick crafts songs that address the overwhelming crises of country music: overcommercialization, insincerity, a default to unquestioning patriotism and power worship, and a obsession with "Southerness" that is primarily concerned with a sort of performative rurality as a measure of authenticity. All the while, offering candid and painful personal journeys into the realms of grief and confusion. Even with it's serious subject matter, 'Home on the Rage' remains a moving and uplifting listen. As always, Nick manages to balance his music's weighty themes with a playful wit, an instinctual musicianship, and a songwriting arch that bends towards hope, for the country and the humanity of it's occupants.