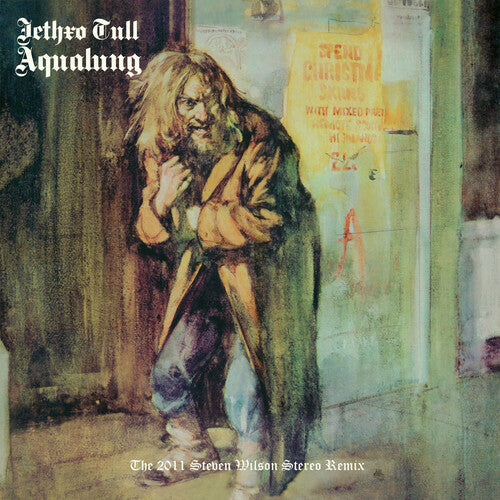 Jethro Tull
Aqualung (Steve Wilson Mix)
Pay in 4 interest-free installments for orders over $50 with Shop Pay.
The 2011 Steven Wilson Remix pressed on 180g Vinyl!
Rolling Stone 500 Greatest Albums of All Time - Rated 337/500!
1971 saw the release of some of the greatest pop/rock albums of all time: Imagine, Pearl, Sticky Fingers, Who?s Next, Tupelo Honey, Surf?s Up, Fragile, Led Zeppelin's IV, Muswell Hillbillies, Tapestry, What?s Going On? and both Madman Across the Water and Tumbleweed Connection are just some of the iconic titles that hit the stores that year. Add Aqualung and that?s quite an output for a twelve month span.
Generally considered the pinnacle of the band?s recorded output, front-man Ian Anderson?s songwriting was quickly evolving from British folk-blues roots and helping define prog-rock. While definitely pushing the envelope for the era in taking on the subjects of God and organized religion, it was guitarist Martin Barre who was establishing equal ground with Anderson?s flute as an instrumental voice of the band. Joining Tull after Toni Iommi (Black Sabbath) who himself had replaced original guitarist Mick Abrahams (Blodwyn Pig, Mick Abrahams Band) departed after only a few days, both Barre?s opening riffs and lead breaks became indelibly imprinted to generations of classic rock.
Songs such as "My God", "Hymn 43", "Locomotive Breath", "Cross-Eyed Mary", "Wind Up" and of course the title track "Aqualung" became FM radio staples and are in-demand concert favorites to this day.
The 2011 Steven Wilson Remix:
Steven Wilson is musician and producer and is well known as the founder, lead guitarist, singer and songwriter of the progressive rock band Porcupine Tree. Wilson is involved in an ongoing project remixing the back catalogue of King Crimson into MLP (Meridian Lossless Packaging) 5.1 and new stereo mixes. He is also remixing the back catalogue of Jethro Tull, including this one Aqualung, in 2011.
Notes On The New Mixes:
Ian has stated that the original recording sessions for Aqualung were a struggle to overcome the technical shortcomings of the studio situation the band found themselves in, and it's certainly the case that the original release is more a triumph of writing and performance than it is of sonic excellence. But I was pleased to discover that what was on the multitrack master tapes sounded better than the 1971 mix would suggest. Using the digitally transferred 16 and 8 track tapes we were able to get a lot more tone from the instruments, as well as a much greater sense of depth and clarity in the sonic picture.
As a long term fan of this music, my aim when remixing a classic album like this is to be faithful to the original, and to stay absolutely true to the spirit of the era in which the music was made. Some cleaing up has been done, but only to the extent that it had zero impact on the audio (after all, a little bit of analogue tape hiss is part of the magic!) No attempt was made to modernise" the mix, and to this end most of the equalisation, volume levels (and rides), stereo positioning, reverbs, echos and other effects processing are matched as closely as possible to the 1971 mix. The only exceptions to this are that we have brought some instruments in a little from extreme left or right in the stereo specgtrum, and a few details that may have been getting a little lost in the original mix have been given a lift in the new version." - Steven Wilson, 1st July 2011
Gatefold LP featuring 24 page adapted booklet from the previous 2011 40th anniversary set.