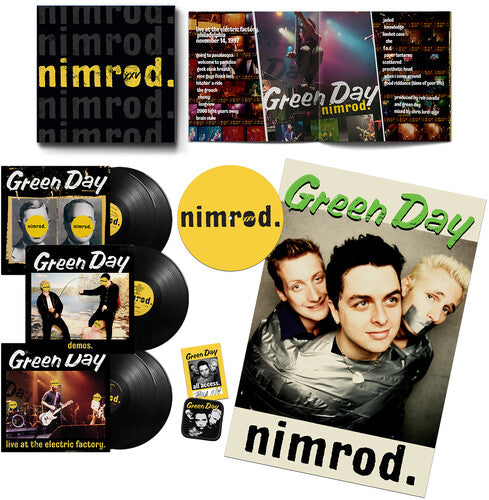 Green Day
Nimrod (25th Anniversary Edition)
Pay in 4 interest-free installments for orders over $50 with Shop Pay.
Nimrod, Green Day's fifth studio album, was originally released on October 14, 1997. The Billboard Top10 LP declared "Green Days best!" by Kerrang was driven by the hit singles "Hitchin' A Ride", "Redundant", "Nice Guys Finish Last" and "Good Riddance (Time of Your Life)" the latter of which has sold 5 million copies in the US alone. The song was written as a spiteful ballad and has evolved into the soundtrack of everyone's seminal life moments; even being featured in the Seinfeld series finale. The album has sold over 3 million copies in the US (triple platinum) and has been certified multi-platinum, platinum, or gold in several other countries, including the UK, Japan, Canada, Australia, and Spain.
This 25th Anniversary Edition includes the original album, one disc of previously unreleased Nimrod demos, and a live set from Philadelphia recorded one month after Nimrod was released. The 14 track demos disc includes two unreleased Green Day tracks ("You Irritate Me" and "Tre Polka"), plus a cover of the classic Elvis Costello song "Allison" (previously unreleased). The live album was recorded at The Electric Factory in Philadelphia on November 14, 1997. The 20-songset includes several songs from Nimrod, plus fan favorites from their previous albums and singles.
The Nimrod XXV box set includes 3 albums on 5 black vinyl LPs, a 20 page 12" x 12" book, poster, cloth patch, exclusive slip-mat, and commemorative backstage pass.
5 LPs:
LP 1 & 2: Nimrod
LP 3: Nimrod Demos
LP 4 & 5: Live at The Electric Factory 1997
GREEN DAY / Nimrod (25th Anniversary Edition)