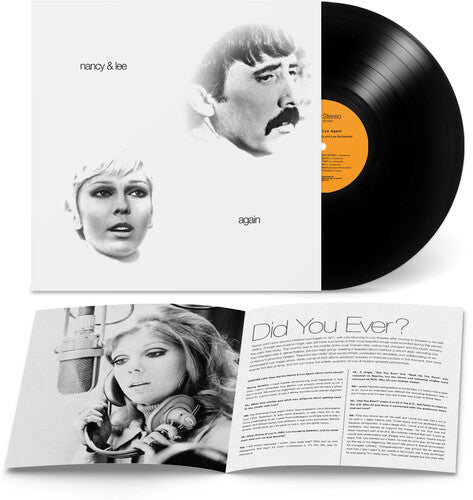 Nancy Sinatra
Nancy & Lee Again
Pay in 4 interest-free installments for orders over $50 with Shop Pay.
Only 8 left in stock.
With Nancy playing up the "girly" and Lee doubling down on the "manly," the duo's 1968 Reprise album "Nancy & Lee" turned an unlikely pairing into a vocal-pop delight-and a #13 LP. Four years later, Nancy and Lee reunited for a second album-one that proved to be every bit as endearing and several degrees more ambitious. Ranging from boldly psychedelic to sweetly cinematic, "Nancy & Lee Again" (1972) features the epic "Arkansas Coal (Suite)," the sensual "Paris Summer," the Dolly Parton-penned "Down from Dover," the country-flavored "Did You Ever" (a #2 UK smash) and more. This first-ever reissue of "Nancy & Lee Again" includes the bonus songs "Machine Gun Kelly" (first time on vinyl) and "Think I'm Coming Down" (previously unreleased) and the audio here is newly remastered from the original analog tapes. The expanded gatefold sleeve contains a 20-page booklet and features never-before-seen photos from Nancy's personal archive. And the #1 reason you should jump on this: it's a Collectors' Choice Music Exclusive pressing on hot-lookin' hot pink vinyl, limited to just 500 copies!