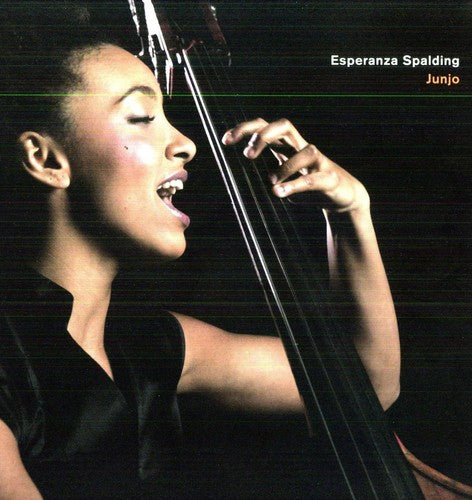 Esperanza Spalding
Junjo LP
Pay in 4 interest-free installments for orders over $50 with Shop Pay.
Only 1 left in stock.
The debut recording by acoustic upright bassist and vocalist Esperanza Spalding, a native of Portland, OR, is an exercise in joy and freedom. Well rendered for such a very young musician, it's quite notable, considering the certainty of her concept and clarity of her vision. While steeped in contemporary jazz, there are Latin flavors, unabashed free moments, and some implied and direct swing. Further, it is an expression of her well-being, optimism, and future hope for her life in this music. Also in her peer group, pianist Aruan Ortiz and drummer Francisco Mela add a hundredfold to this music and establish themselves as leaders-to-be, and are quite capable partners for Spalding's wonderful sounds. The first piece, a take of the Jimmy Rowles evergreen "The Peacocks," let's you know something special is going on. Spalding's bass leads out with the probing piano of Ortiz as wordless vocals and a modal jam all precede the melody, followed by a free section. The imagination quotient of this interpretation is off the charts. "Mompouana" is a most impressive circular tune surrounding the sweetness and light of Spalding's voice in a 9/8 time signature, choppy piano motifs, upper to midrange drama, and thoughtful, intricate secondary lines. In their ultimate playful state, "Perazuán" and "Perazela" show Spalding's ability to scat, with Ortiz on the former and furiously alongside Mela on the latter track. The other covers are a darker-than-the-original rendition of Chick Corea's neo-bopper "Humpty Dumpty" and the personable, lighthearted "Loro," written by Egberto Gismonti. "Two Bad," with a feeling reminiscent of the standard "Alone Together," is a brittle, quirky, and unpredictable tune that is the only instrumental of the lot. Spalding sings no lyric content whatsoever; her style is all natural, sensual, and precious. Whether she is coerced to sing songs in the future is to be determined. Junjo is an auspicious beginning that should catch the ears of any lover of great music.