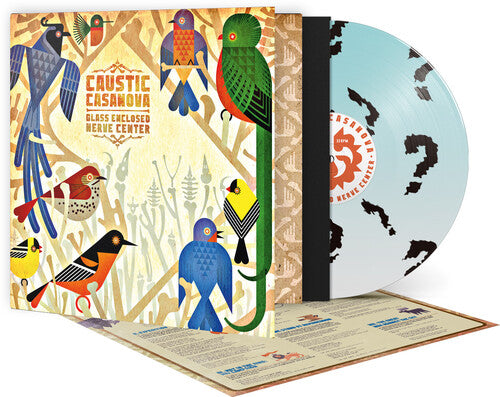 Caustic Casanova
Glass Enclosed Nerve Center - Random Color
Pay in 4 interest-free installments for orders over $50 with Shop Pay.
Only 9 left in stock.
On their fifth album, the brain-frying "Glass Enclosed Nerve Center", Washington, DC-based riffonauts Caustic Casanova pull an expansive range of sounds into their tight, hyperkinetic core and explode them outward in a kaleidoscope of progressive heavy rock exuberance. Formed in 2005 as the trio consisting of drummer and vocalist Stefanie Zaekner, bass-player and singer Francis Beringer, and guitarist Andrew Yonki, Caustic Casanova's chose a path to constantly refine their thrillingly unpredictable music, which careens from sardonic noise rock to proggy sludge in the vein of BARONESS, RED FANG, and TORCHE, while also taking inspiration from the gargantuan heft of MELVINS to BORIS, and fleet guitar heroics with flashes of dark-hued post-punk. With the addition of second guitarist Jake Kimberley in 2019, the now-quartet set their sights on making the most adventurous and prog-rock Caustic Casanova record yet. "Glass Enclosed Nerve Center" underscores all their strengths while making the most of the expanded line-up that opened up their sound to new possibilities. Beringer's reedy, melodic bass dances heavily alongside the two frying guitars to empower a trio of lead voices. Zaenker's percussion is powerfully inventive across the album's five expansive songs, sounding equally at home in swinging, Bill Ward stomp as in math-rock jitteriness. Long-time travelers in Caustic Casanova's orbit will doubtless find "Glass Enclosed Nerve Center" an exhilarating welcome back that includes the ambitiously sprawling, 22-minute epic 'Bull Moose against the Sky' which occupies the album's entire B-side. Yet those who are new to the massive sound of these raging psychedelic sludge buffaloes will find outstanding songcraft and rich storytelling that is worth every second and countless repeat spins. Three, two, one - go!