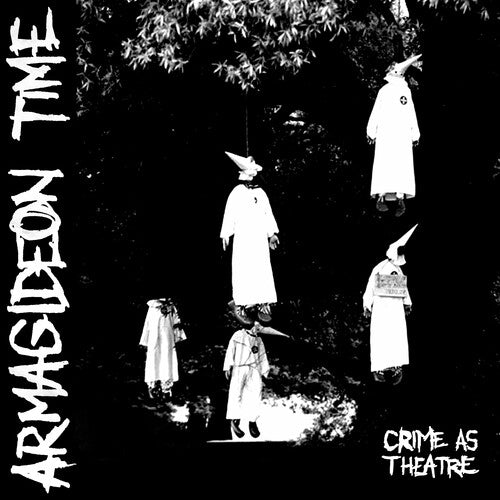 Armagideon Time
Crime As Theatre
Pay in 4 interest-free installments for orders over $50 with Shop Pay.
Only 1 left in stock.
Straight from the heart of the birthplace of slavery and segregation, Richmond, Virginia, comes ARMAGIDEON TIME. Born out of paranoia and racial tension in the Spring of 2019, Jesse Mowery (Karoshi, In Wolves Clothing, Apostles Of Eris) and Andy Kohler (Voarm, Argentinum Astrum, Sadville) began ruminating on a new musical endeavor. They soon added Shaun Reeves (Voarm) on bass and Taimir Gore (Broke Royals, Kristeva, Glossing) on guitar to round out the instrumental section of this new project. After a year of rehearsal, followed by another year waiting out a pandemic, they connected with rapper BlackLiq, who had recently released his collaborative album with emcee/producer Mopes, titled Time Is The Price on Strange Famous Records. Together, this newly formed unit wrote and recorded their debut EP Crime As Theatre. The resulting collection of energetic songs is a story about life, love, and Fox News, told over a relentless blend of ripping crust/d-beat-infused melodic hardcore. Lyrically, the band's approach challenges the fearmongering, misinformation, and exploitation of the poor that has become the standard American custom, while holding accountable the parties that use those methods to further their agendas.